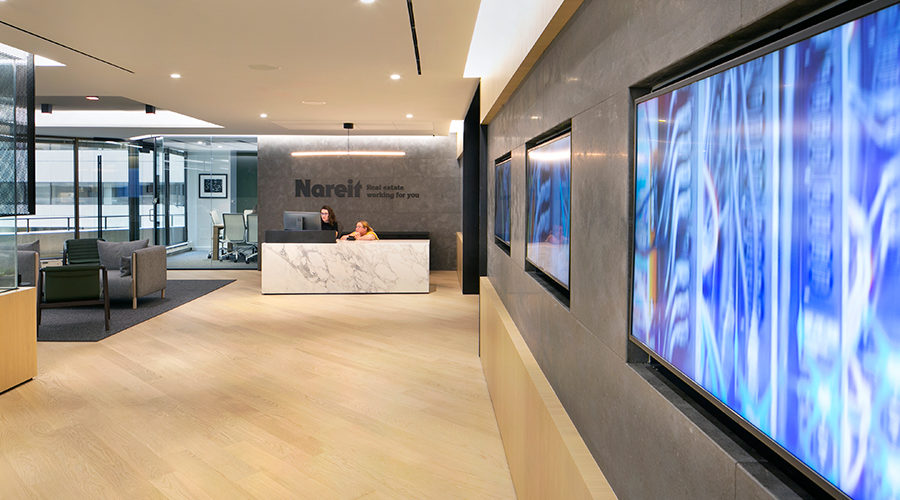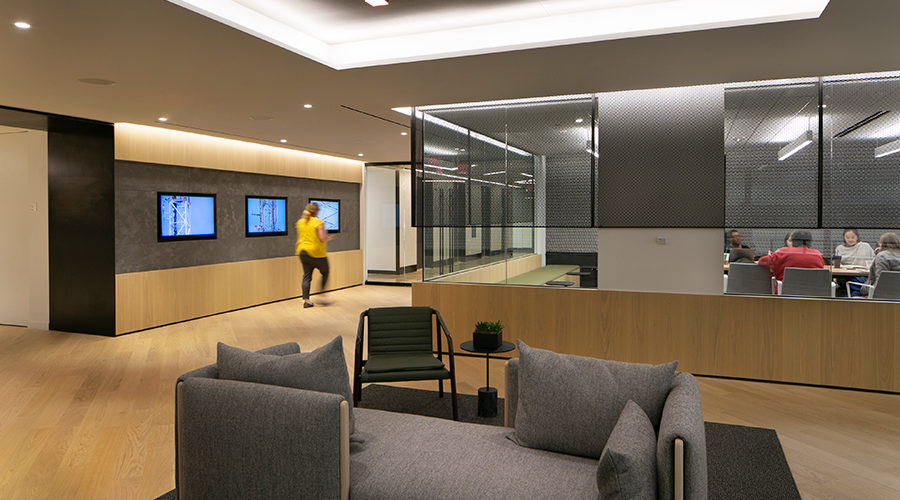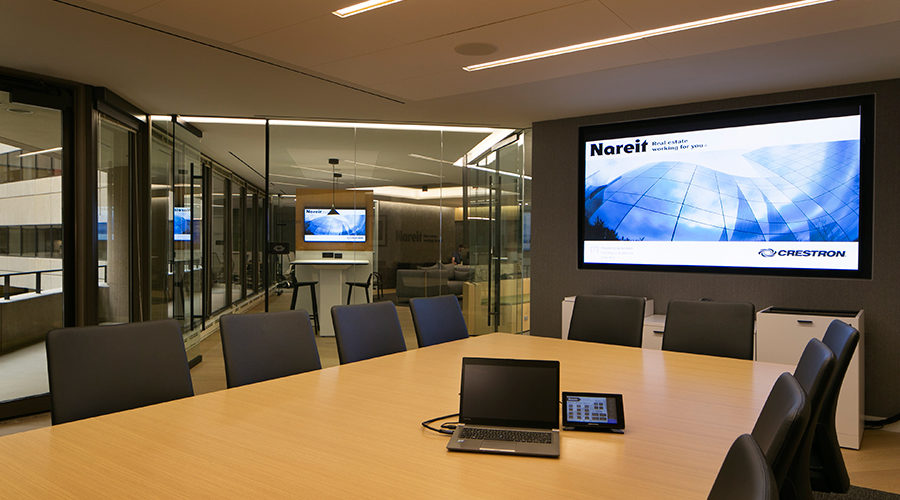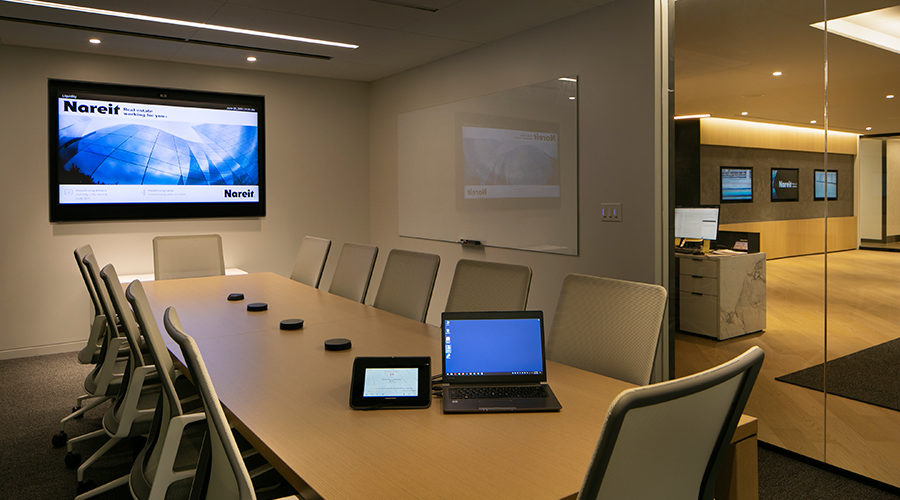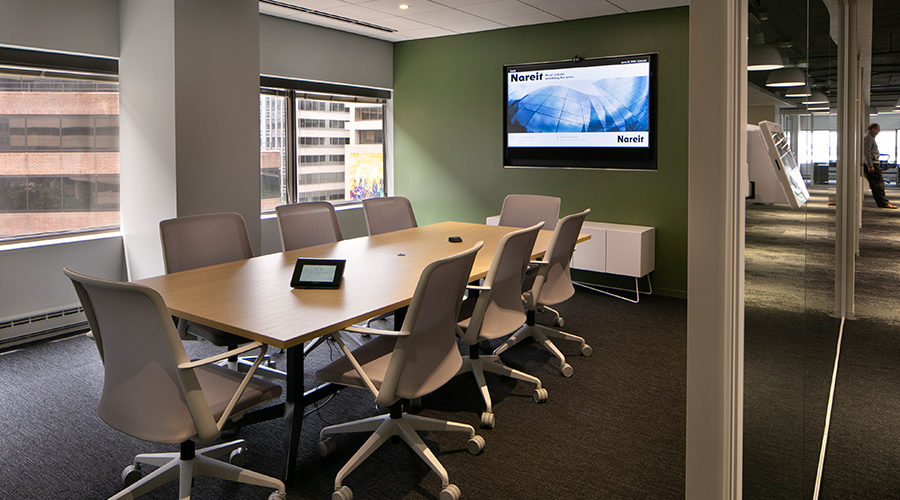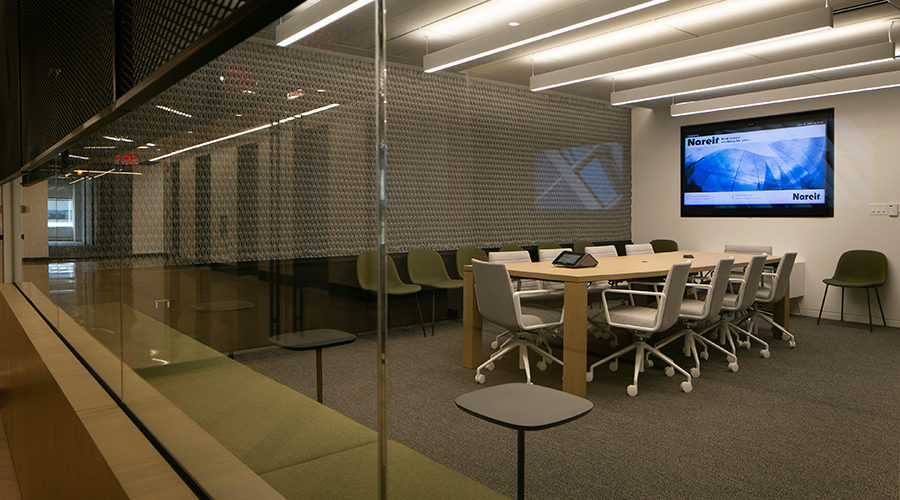 Washington, DC
AV Consultant: PhaseShift
Photos: Matthew Tennison
Audio Visual System Installation
Control System Programming
Sound Masking
Custom Display Content
Cambridge Sound Masking System
BrightSign Media Players for lobby displays
IP Security Camera System
Crestron Room-Scheduling System
Crestron Touch Panels
VoIP Conferencing System
Wireless Presentation Systems
The National Association of Real Estate Investment Trusts (Nareit) operates under the mission to ensure everyone has the opportunity to benefit from real estate investment. They are the worldwide representative voice for real estate investment trusts, or REITs, and publicly traded real estate companies. Nareit is all about real estate working for you.
Their office located in Washington D.C. is the epitome of the modern workspace. Design & Integration provided Nareit with the latest in audiovisual technology, combining aesthetic appeal and functionality. The installation includes a new sound-masking system, security camera system, and several conferencing and huddle spaces.
Upon entering the lobby, clients are welcomed by three displays featuring custom digital content designed by DI's creative team. Conferencing spaces in the facility utilize Crestron touch panels that allow users to view the room's availability and schedule reservations. Connection to conferencing displays can be done wirelessly via Mercury AirMedia or through HDMI connections available in each unit.
The largest conferencing space holds the most advanced AV technology in the facility. Content is clearly displayed on two 98" Samsung screens in the room through the use of the Crestron unit's streaming capabilities. Ceiling microphones and a PTZ camera create a high-quality conferencing experience for users in the room and for those connecting remotely.
 Nareit's renovated office space provides them with all the resources necessary to clearly communicate the benefits of their work to policymakers, the media, and their clients.